NR 03-31-01 ... Marsha Duffy from Palm Bay [Brevard County] wins both $92,699 Mega Money jackpots from the March 30 drawing. She had purchased two tickets with the same numbers from different retailers. Thus, her total prize amounts to $185,398.
---

NR 03-31-01 ... Daylight Saving Time begins at 2:00 am on Sunday, April 1, when the clocks are moved forward one hour to 3:00 am. DST ends on Sunday, October 28.
---

NR 03-28-01 ... One player with ticket from Inverness wins $176,326 Mega Money jackpot on March 27 !!!
---

NR 03-27-01 ... Out of 10,000 possible combinations in Play 4, 3,000 have now been drawn. Of the 3,000 drawn combinations, 452 have appeared twice, 45 three times, and 4 four times.
---

NR 03-25-01 ... Pecan Day ... Whether you pronounce it PEEK-an or pe-KAWN, the pecan is a distinctly American nut, with more than 300 million pounds produced each year now. The only major nut tree that grows naturally in North America, the pecan was widely used by Native Americans as an important food source during the autumns of pre-colonial days. March 25th marks National Pecan Day, commemorating the 1775 planting of pecan trees at Mount Vernon by George Washington. In regards to phonetics, a recent online poll by the National Pecan Shellers Association revealed that the pe-KAWN pronunciation was preferred by more than 75% of the voters. Care for a piece of pecan pie?
---

NR 03-24-01 ... One player with ticket from Holiday wins $376,532 Mega Money jackpot on March 23 !!!
---

NR 03-20-01 ... Vernal Equinox ... Tuesday, 20 March 2001 at precisely 08:31 am ET, marks the day and time when the Northern Hemispheric Spring begins. Enjoy the season !!!
---

NR 03-17-01 ... One player with ticket from Hollywood wins $587,577 Mega Money jackpot on March 16 !!!
---

About St. Patrick's Day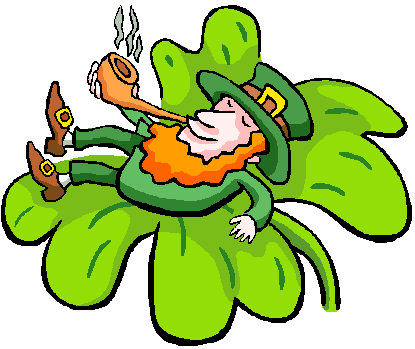 NR 03-16-01 ... St. Patrick was born around 390 AD in Roman Britain. At the age of 16 he was kidnapped by Irish raiders and sold into slavery in Ireland. During his captivity he turned to religion, and after six years of laboring as a shepherd he fled to Gaul. In Gaul he studied, was ordained to the diaconate, and spent 15 years in the church of Auxerre. St. Patrick was ordained as bishop in 432 AD and returned to Ireland the same year as a missionary to convert the people to Christianity. Legend has it that he drove all of the snakes from the island. It is also said that he used the three-leafed shamrock to explain the concept of the Trinity. Thus, the strong association of the shamrock with St. Patrick's Day.
St. Patrick is a hero in Ireland. Indeed, there are about 60 churches and cathedrals on the island named for him alone. One of the most famous is St. Patrick's Cathedral in Dublin, whose grounds bear the mark of the place where St. Patrick baptized his converts. Green is associated with Saint Patrick's Day because it is the color of spring, Ireland, and the shamrock.
Leprechauns are also linked to this holiday. According to folklore, the Leprechaun is an Irish fairy portrayed as being unsociable, unfriendly, and living alone. Leprechauns also make shoes and possess a hidden pot of gold. It is said that if a Leprechaun is caught by a treasure hunter, then he must tell him where the treasure is, unless the Leprechaun can trick the hunter and suddenly vanish. Leprechauns might have been created by greeting card companies in order to provide them with a cute subject to put on their cards.
Good Luck Rituals for St. Patrick's Day

Finding a four-leaf clover ... that's double the usual good luck!
Wearing green. School children have started a little tradition of their own recently - they pinch classmates who don't wear green on this holiday.
Kissing the blarney stone. The blarney stone is built into the southern wall of Blarney Castle in County Cork, Ireland, and said to endow those who kiss it with the gift of eloquence. According to legend, the castle was once saved from attack through flattery and cajolery ... hence, the power of "blarney".
---

NR 03-15-01 ... Two Fantasy 5 players win $83,461 each by sharing the March 14 top prize. Theirs is the 22nd highest individual payout in Fantasy 5 history and the 23rd to surpass $80,000.
---

West Palm Beach Great-Grandmother Claims $10 Million Lotto Jackpot

NR 03-13-01 ... On Monday, March 12, a woman from West Palm Beach claimed the $10 million Lotto jackpot from the March 7 drawing at Lottery Headquarters in Tallahassee. Ruth E. Johnson (70) chose to collect her winnings in form of a single cash payment of $5,939,268 instead of receiving 30 annual installments of approximately $333,333 each.

Ruth, a semi-retired domestic housekeeper, used the ages of her six adult children [32 - 35 - 38 - 40 - 50 – 52] as numbers for her winning ticket. Last Wednesday she sent her daughter Gwendolyn to the store to buy one Lotto ticket for that evening's drawing, asking her to "Play all your ages."

Gwendolyn, who accompanied her mother to Tallahassee, bought the lucky ticket at the Kwik Stop, located at 4701 Broadway in West Palm Beach.

"I won it with just one dollar - that had to be a miracle," said a smiling Ruth. "That's all it takes."

"I had forgot about the Lotto ticket," Ruth expressed. "I usually don't play on Wednesday and I thought with just one ticket, I probably wasn't going to win anything." But she said that the winning numbers she saw on her TV Thursday morning were beginning to look familiar when her daughter called her on the telephone. "I knew I had some of the numbers when the phone rang," Ruth stated. "It was my daughter and she was very excited. She said, 'You won the Lotto!' but I was still kind of asleep and couldn't take it all in."

When Ruth went outside to get her newspaper later that morning, she confirmed the numbers and exclaimed, "I'll be doggone! We did win the Lottery!"

"I didn't have a big reaction," she said. "I was kind of calm. Now is the first time this seems like reality."

"I'll help some people who need it - especially my children," stated Ruth, who has 22 grandchildren and 5 great-grandchildren. "I'll pay off my car. That's the only thing that aggravates me - I have $8,000 left on it."

"I'll probably buy myself a house," she added, indicating that she likes to spend her spare time gardening.

Ruth also said that she did not plan to give up her two-day-a-week job where she has worked for the last 16 years. "We have cats to take care of," she expressed.

Ruth became the 62nd Florida Lotto winner to either reside or purchase a jackpot winning ticket in Palm Beach County, and the 644th winner of more than $1 million since the game began in 1988.
---

Ocala Great-Grandmother Claims $777,746 mega Money Jackpot

NR 03-09-01 ... On Wednesday, March 7, a woman from Ocala claimed the $777,746 Mega Money jackpot from the Feb 27 drawing at Lottery Headquarters in Tallahassee. "After I saw in the newspaper that I had all the winning numbers, I just screamed 'Thank you, Jesus!'" said Gertharine Howard, a retired cook originally from Rochester, NY. "My daughter was in my house with me, and she just couldn't believe what I had won."

Gertharine bought her winning ticket at the Winn Dixie store, located at 2640 Northeast 14th Street in Ocala, and used the Quick Pick option to choose her lucky numbers.

"I'm in the process of buying a new house, so I'll use some of my winnings for that, take my grandkids to Walt Disney World, and take care of other family members," she said. "I might also be going on some vacations for myself now."

Gertharine went to Tallahassee accompanied by her son Randall, her daughter Alzora, her three grandchildren and a great-granddaughter.

"I've been playing Mega Money since the game began in 1988 and I bought $15 worth of Quick Pick tickets for this drawing," the winner said.
---

NR 03-07-01 ... Two players with tickets from Miami and West Palm Beach share $383,558 Mega Money jackpot on Tuesday, March 6 !!! Each winner receives $191,779.
---

Escambia Family Claims $7 million Lotto Jackpot
NR 03-07-01 ... On Monday, March 5, a family from Cantonment (Escambia County) claimed the $7 million Florida Lotto jackpot from the Feb 24 drawing at Lottery Headquarters in Tallahassee. Martha R. O'Dillon (45) and her husband of 26 years, Usher (53), opted to collect their prize in form of a single cash payment of $4,031,085 instead of receiving 30 annual installments of approximately $233,000 each.
"All the winning numbers are from the birthdays of my two daughters, my grandchildren and my son-in-law," Martha said. "It's going to be different. We had a good life before; it's going to be a lot better now."
The O'Dillons watched the Feb 24, Saturday evening drawing on TV, but poor antenna reception left them in doubt about how many numbers they had correctly picked. "We waited through the news, the weather and the sports to check the numbers again as they ran them across the screen at the end of the newscast," Martha stated. "I thought we had five numbers. When I saw we had them all, all I could do was shake! All my husband could do was grin." She added, "Oh my God, oh my God, oh my God - that's all I could say. He probably got tired of hearing me."
In spite of their assurance that they had won the Lottery, the O'Dillons left for a planned vacation early the next morning, maintaining an unbroken 17-year tradition of attending Mardi Gras in New Orleans.
"While we were there, my two girls kept calling," Martha told. "They said people were asking about us being the winners - I understand it got pretty wild. Cantonment is so small, everybody knows what's going on. We really got hit when we got back!"
The O'Dillons stated that they are going to use their winnings for the education of their children and grandchildren. They also plan to purchase a new vehicle and a house with a cedar-paneled study.
Martha expressed that they have been Lottery players since the games started in 1988. "The Lottery started at 12:01 in Miami, and I bought a ticket in our [Central] time zone at 11:01," she said. "I won a dollar on the very first ticket, and I've been playing ever since." The O'Dillons also matched 5 out of 6 Florida Lotto numbers last year, thereby winning more than $6,000.
The O'Dillons became the 27th Florida Lotto winners to either reside or purchase a jackpot winning ticket in Escambia County, and the 643rd winners of more than $1 million since the game began in 1988.
Martha bought the lucky ticket at the E-Z Serve at 10 Williams Ditch Road in Cantonment.
---

Cocoa Couple Claims $30 million Lotto Jackpot
NR 03-06-01 ... On Friday, March 2, a couple from Cocoa arrived at Florida Lottery Headquarters in Tallahassee in a white stretch limousine to claim the $30 million Lotto jackpot from the Feb 17 drawing. Gene Van Alstine (52) and his wife of 30 years, Helen (49), chose to collect their prize in form of a single cash payment of $16,527,036 instead of receiving 30 annual installments of approximately $1 million each.
"I didn't find out I had the winning numbers until I saw them in the newspaper on Sunday morning," said Helen, who works for First Union Bank in Cocoa. "The last three numbers first caught my eye and then I saw that I had all six of them. All I could say was 'Oh my God' to my husband!"
"After we checked the newspaper, we went to the web and found out there was only one winning ticket sold in Cocoa," said Gene, who works for the space industry but plans to retire soon. "In a sense, it hit us then that we had won, but it really hasn't hit us yet."
"On that Sunday, everyone was coming over to our house and my husband told me we had to act normal," told Helen. "I was a basket case when I found out I won, and I'm still a basket case today. I tried to figure out how much we won, but our calculator won't even go to a million dollars! It has really been a lot of emotional ups and downs for us."
The Van Alstines bought their lucky ticket at Publix Supermarket, located at 7325 US Highway 1 North in Cocoa. They became the 23rd Florida Lotto winners to either reside or purchase a jackpot winning ticket in Brevard County, and the 642nd winners of more than $1 million since the game began in 1988.
The couple plans to use their winnings mainly for investment purposes. Helen also said that she intends to spend more time with her grandsons, while Gene revealed that he was at work for the last two weeks, but that he doesn't think he'll be going back. And he added, "my advice to other Lottery players is not to give up."